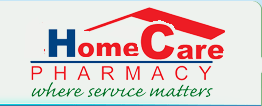 Somerford House
Somerford Place
Willenhall
WV13 3DT
Opening Times:
Monday to Friday: 9am to 5pm

Tel: 01902 606514
Fax: 01902 602660
Email: service@homecarepharmacy.co.uk
Services to Individual Homes
We look after a number of CareHomes of all sizes: from the very small (less than 5 residents) to the very large (more than 120 patients). The types of residents also tend to vary, from the young to the elderly, from dementia sufferers to the learning disabilities.

Irrespective of the size or the type of the CareHome, each and every one of our clients receives the same degree of care and respect. We are sensitive to the needs of all of our clients and the proprietors. Our clients tend to stay with us, once they are spoilt with our service! Our oldest clients go back to the very beginning, when the pharmacy was opened more than 20 years ago!
We can offer other facilities and services, depending on the individual circumstances and requirements of the CareHome. Please do contact us to discuss your particular needs. You will be please you have contacted us.

Click here to Join Our Service or discuss your particular requirements.