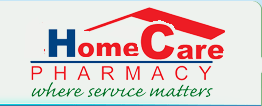 Somerford House
Somerford Place
Willenhall
WV13 3DT
Opening Times:
Monday to Friday: 9am to 5pm

Tel: 01902 606514
Fax: 01902 602660
Email: service@homecarepharmacy.co.uk
Compliance Systems
We offer all the different types of compliance systems on the market.

We are not tied to any particular system or company. We carefully listen to your requirements and then advise you on a system that is best suited to your individual needs. Our sole aim is to provide you with the best possible system for you. If a particular system does not fit your requirement, then it is always possible to change your system, without having to change your Chemist!

Types of Compliance Systems

The compliance systems that we supply can broadly be classified into Weekly Systems or Monthly Systems. Within each of these types, there is a further option to have a disposable system or a re-usable system. You further have the option of cold or hot sealed systems.
Dependent on the type of system, we provide racks and trolleys to store the blisters or cassettes. We also provide colour-coded dividers for some systems, which makes it visually easier to distinguish between the different administration times.
We provide Medicine Administration Record (MAR) charts for you to keep a full audit trail and for ease of re-ordering prescriptions.


Click here to Join Our Service or discuss your particular requirements.