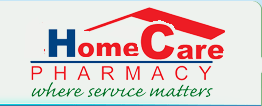 Somerford House
Somerford Place
Willenhall
WV13 3DT
Opening Times:
Monday to Friday: 9am to 5pm

Tel: 01902 606514
Fax: 01902 602660
Email: service@homecarepharmacy.co.uk
Refer a Friend
Already signed up to our service? Do you like what you see on this website?

Do you think a friend could benefit from our services?

Why not SHARE A GOOD THING?

We will reward* you and your friend as soon as they Sign up or JOIN OUR SERVICE.

FILL IN THE CONTACT FORM BELOW WITH YOUR AND YOUR FRIEND'S DETAILS AND WE WILL DO THE REST.


We aim to get in contact within 48 hours of receipt of the form.

Don't forget to tell you friends we will be contacting them!

You can refer as many friends as you like. We will contact you once your friend has signed up for our service.

*Excludes NHS prescriptions, infant formula milk and nappies. No prescription required to sign up to this service